About us

The Oil Market Journal was founded with the aim of providing large volume oil buyers, especially oil distributors with reliable intraday assessments on Rotterdam Spot Market trading in refined products such as heating oil, diesel, and gasoline.
The OMJ has expanded rapidly and today offers a broad range of oil and foreign exchange prices, news and analysis which are delivered to clients via a suite of innovative delivery systems.
The company is managed by a team of experienced oil and technology professionals and has a proven track record of combining accurate market analysis with reliable intra price assessments and innovative technologies.
OMJ is a licensed data provider for SPGCI Platts and for Argus Media, a Dow Jones Energy News partner, and a licensed vendor for ICE Futures and WM Reuters. In addition, OMJ is licensed to distribute commodity prices from a wide range of global commodity exchanges.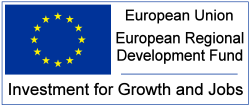 OMJ Limited has received an Invest NI Grant for Research and Development, supporting company innovation in services, products and processes. Part financed by the Investment for Growth and Jobs Programme for Northern Ireland 2014-2020, co-financed by the European Regional Development Fund. This project aims to use AI & Machine Learning techniques to develop unique pricing tools for use in the Biofuel and Fuel Oil sectors.